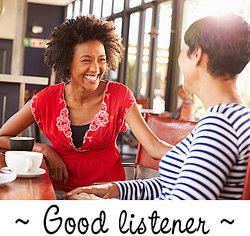 An attribute is a quality or characteristic of a person, place or thing. Personal attributes are character traits or personality traits.
Positive Attributes
Achiever
Active
Adaptable
Ambitious
Balanced
Candid
Cheerful
Communicative
Compassionate
Competitive
Consistent
Cooperative
Courageous
Curious
Devoted
Diplomatic
Easy going
Emotional
Enterprising
Enthusiastic
Entrepreneurial
Exciting
Facilitator
Fast
Flexible
Focused
Forgiving
Generous
Genuine
Good listener
Helpful
Imaginative
Incredible
Independent
Industrious
Initiator
Insightful
Interesting
Inventive
Knowledgeable
Leader
Literate
Logical
Meditative
Mediator
Modest
Open Minded
Organized
Original
Outgoing
Particular
Patient
Perceptive
Personable
Persuasive
Pleasant
Political
Positive
Powerful
Practical
Proactive
Productive
Professional
Quality
Quick
Quirky
Quixotic
Racy
Rebellious
Responsible
Results-driven
Results-oriented
Self-reliant
Sense of Humor
Sensible
Sensitive
Sensuous
Sincere
Skilled
Social Consciousness
Solid
Sporty
Thoughtful
Trustworthy
Understanding
Warm
Wise
Negative Attributes
Aggressive
Aloof
Arrogant
Belligerent
Big-headed
Bitchy
Boastful
Bone-idle
Boring
Bossy
Callous
Cantankerous
Careless
Changeable
Clinging
Compulsive
Conservative
Cowardly
Cruel
Cunning
Cynical
Deceitful
Detached
Dishonest
Dogmatic
Domineering
Finicky
Flirtatious
Foolish
Foolhardy
Fussy
Greedy
Grumpy
Gullible
Garish
Impatient
Impolite
Impulsive
Inconsiderate
Inconsistent
Indecisive
Indiscreet
Inflexible
Interfering
Intolerant
Irresponsible
Jealous
Lazy
Machiavellian
Materialistic
Mean
Miserly
Moody
Narrow-minded
Nasty
Naughty
Nervous
Obsessive
Obstinate
Overcritical
Overemotional
Parsimonious
Patronizing
Perverse
Pessimistic
Pompous
Possessive
Pusillanimous
Quarrelsome
Quick-tempered
Resentful
Rude
Ruthless
Sarcastic
Secretive
Selfish
Self-centered
Self-indulgent
Silly
Sneaky
Stingy
Stubborn
Stupid
Superficial
Tactless
Timid
Touchy
Thoughtless
Truculent
Unkind
Unpredictable
Unreliable
Untidy
Untrustworthy
Vague
Vain
Vengeful
Vulgar
Weak-willed
Professional Attributes
Accountable
Acknowledges communications
Adaptable
Admits when he/she is wrong
Authentic
Bears responsibility
Believes that family is important
Believes that health is important
Believes that time to relax is important
Believes that time to think is important
Broadminded
Caring
Carries business cards to use for networking
Collaborates
Commitment to excellence
Communicates well
Consistent
Courteous
Credible
Decisive
Dependable
Determined
Diligent
Disciplined
Displays integrity and a high ethical standard
Doesn't gossip
Doesn't hold grudges
Doesn't let things slip through the cracks
Doesn't make excuses
Delivers above and beyond what people expect
Effective
Efficient
Empathetic
Engaging
Enthusiastic
Evolving
Excels in their line of work
Exercises self-control
Focused
Forgiving
Generous
Gets along with people
Gets the job done
Gives credit where credit is due
Go-getter
Goal-setter
Good at working in a team
Good interpersonal skills
Hard worker
Has a personal mission statement
Has a 30-second explanation of what they do (often called an "elevator speech")
Has conviction
Hears all sides
Helps others with their problems
Helps others to succeed
Highly committed
Humble
Innovative
Interested in others
Is a person of their word
Kind
Learns from mistakes
Listens well
Looks at obstacles as challenges
Loyal
Maintains gains while being proactive
Makes the best of situations
Manages stress
Methodical
Motivated
Networks well
Nonjudgmental
Not afraid to fail
Not manipulative
Not satisfied with mediocrity
Objective
Open to new ways of doing things
Organized
Passionate
Patient
Perseverant
Planner
Positive attitude
Precise
Proactive
Realistic
Relates well to others
Respectful
Scheduled
Scrupulous
Seeks improvement
Selfless
Sharp spiritually
Shows appreciation and expresses thanks
Sincere
Stays abreast of new developments
Studious
Takes responsibility
Teachable
Thinker
Time management skills
Transparent
Tries to do more with less
Trustworthy
Truthful
Upright
Values others
Willing to change
Willing to take necessary risks
Willing to do whatever it takes to get the job done
Having positive attributes can increase your business and personal relationships. Being able to recognize and compliment positive attributes is, in and of itself, a positive attribute.