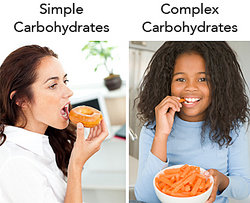 A carbohydrate is an organic compound such as sugars, starches, celluloses and gums, that occurs in living tissues and food. It is important for nutrition since it can be broken down into energy by people or animals.
Carbohydrates are divided into four groups:
Monosaccharides – These are simple carbohydrates, also called simple sugars, which are made of one sugar. They are broken down quickly by the body and are the building blocks for complex carbohydrates.
Disaccharides – These are also simple carbohydrates that consist of two chemically-linked monosaccarides. They come in the form of lactose, maltose and sucrose.
Oligosaccharides – These are complex carbohydrates that consist of three to ten sugars. They are rich in vitamins and minerals; and, because they are fiber-rich, they are slower to digest than a simple carbohydrate.
Polysaccharides – These are also complex carbohydratges and are rich in vitamins, minerals and fiber; but, they have larger numbers of sugars than an oligosaccharide.
Simple Carbohydrates
Frucose
Lactose
Lactulose
Maltose
Maltulose
Sucrose
Galactose
Glucose
Arabinose
Arabitol
Allose
Altrose
Galactosamine hydrochloride
Acetylgalactosamine
Hammelose
Lyxose
Levoglucosenone
Mannose
Mannitol
Mannosamine hydrochloride
Acetylmannosamine
Deoxy-L-ribose
Ribose
Rhamnose
Threose
Talose
Xylose
Galactose
Galactose-6-O-sulfate sodium salt
Acetyl-D-glucosamine-6-O-sulfate sodium salt
Glucosamine-3-O-sulfate
Glucosamine-2-N, 3-O-sulfate sodium salt
Acetyl-D-galactosamine-4-O-sulfate sodium salt
Galactosamine-2-N-sulfate sodium salt
Mannose-6-O-sulfate sodium salt
Acetobromo-D-xylose
Phenylethyl-β-D-thiogalactoside
Isopropyl-β-D-galactopyranoside
Nitrophenyl-α-D-xylopyranoside
Acetylneuraminic acid
Arabino – 1,4-lactone
Lyxono – 1,4-lactone
Ribono – 1,4-lactone
Threono – 1,4-lactone
Methyl uronate
GlcNAc L- asparagine
Xylosylated L- serine
Manosylated L- serine
Galactosylated L- serine
Galactosylated L- tyrosine
Foods with Simple Carbohydrates
Baked goods (including bread) made with white flour
Cake
Candy
Candy bar
Carbonated drink
Chocolate
Cookie
Corn syrup
Fruit juice
Fruit preserve or jam
Fudge
Honey
Whole milk
Plain, full fat yogurt
Most packaged cereals
Pasta made with white flour
Table sugar
Complex Carbohydrates
Cellobiose
Isomaltose
Kojibiose
Nigerose
Rutinose
Rutinulose
Trehalose
Xylobiose
Oligosaccharides
Fructo – oligosaccharides (FOS)
Galactooligosaccharides (GOS)
Gentianose – a trisaccharide
Inulin
Maltotriose – a trisaccharide
Mannan oligosaccharides (MOS)
Raffinose – a trisaccharide
Polysaccharides
Agar
Amylopectin
Amylose
Arabinoxylan
Beta-glucan
Capsulan
Carrageenan
Cellulose
Chitin
Dextrin
Fructan
Glycogen
Hemicellulose
Methyl α -D-glucopyranoside
Pectic acid
Pectin
Sinistrin
Starch
Sugammadex
Xanthan gum
Xyloglucan
Zymosan
1,2:5,6 – Di-O-isopropylidene-α-D-glucofuranose
1,2:3,4 – Di-O-isopropylidene-α-D-galactopyranose
1,2,3,4 – Tetra-O-acetyl-β-D-xylopyranose
Phenyl – α – D-glucopyranoside
1,2,4,5 – Di-O-isopropylidene-α-D-fructopyranose
2,3,4,5 – Di-O-isopropylidene-α-D-fructopyranose
Foods that Contain Complex Carbohydrates
Apple
Apricot
Artichoke
Asparagus
Banana
Blackberry
Black current
Blueberry
Broccoli
Brown rice
Brussels sprout
Buckwheat
Buckwheat bread
Cabbage
Carrot
Cauliflower
Celery
Cherry
Cranberry
Cucumber
Dill pickle
Dried apricot
Eggplant
Garbanzo bean
Grapefruit
Kidney bean
Kiwi
Lemon
Lentils
Lettuce
Low fat yogurt
Lychee
Melon
Multi-grain bread
Museli
Navy bean
Oat bran bread and cereal
Oatmeal
Okra
Onions
Orange
Peach
Pear
Pinto bean
Plum
Potato
Prune
Radish
Raspberry
Skim or low fat milk
Spinach
Split pea
Soybean
Soy milk
Strawberry
Turnip green
Wild rice
Watercress
Whole barley
Whole meal bread
Whole meal flour
Whole meal pasta
Yam
Zucchini
Complex carbohydrates are more nutritious than simple carbohydrates. Knowing type type of carbohydrate and the foods that contain that carbohydrate can improve your energy levels and your nutrition.