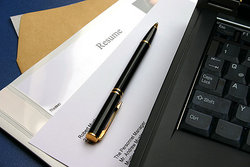 Cover letters are an often-overlooked part of the job-hunting process. However, a well-written cover letter is just what you need to entice a potential employer to take a closer look at your resume.
Tips for Writing a Winning Cover Letter
Writing a winning cover letter isn't difficult if you keep in mind a few simple tips.
Address your letter to an actual person. If at all possible, address your cover letter to a specific person within the company. Nobody likes to read generic form letters, so a few minutes of online research, or a quick phone call, is often well worth the effort.
Express your enthusiasm. Your resume is a summary of your experience and qualifications. Your cover letter is a chance to highlight why you're the perfect fit for this particular role. A letter that demonstrates you're familiar with what the company does and know how you can contribute will make you stand out.
Highlight key points from your resume. While you don't want to rehash your resume completely, it's a good idea to highlight anything particularly relevant. For example, you may choose to elaborate about a project demonstrating mastery of a key software program used in the position you're applying for.
Keep it brief. Be respectful of the hiring manager's time. Your cover letter should never be more than one page. Often, two or three paragraphs are sufficient.
Proofread carefully. Don't simply rely on spell check to catch mistakes. Spell check won't catch errors in company names or mistakes such as typing "form" when you meant "from." Proofread your cover letter yourself, then ask a friend to look it over as well.
Traditional Cover Letter Examples
If you're submitting a printed copy of your cover letter, you should use the format of a traditional business letter. Don't forget to add a handwritten signature and note that you're enclosing a copy of your resume.
Susana C. Smith
12345 Maple Lane
Janesville, MA 55555
May 17, 2017
Angela Adams
Janesville Consolidated Schools
54321 West Oak Avenue
Janesville, MA 55555
Dear Ms. Adams:
As an experienced elementary school teacher committed to developing lifelong inquisitive learners, I'm confident my skills and background align perfectly with the requirements of your recently advertised fourth-grade teaching position.
Enclosed is my resume outlining my expertise in classroom management, curriculum planning, and teacher-parent relations. My credentials include a history of creating rigorous and relevant lesson plans in reading, mathematics, language, science, and social studies incorporating both play and hands-on teaching. I'm also committed to building strong relationships with students and their families, as demonstrated by my past experience volunteering at PTO events throughout the school year and serving as a teacher liaison during the summer reading program at the North Oak Public Library.
Thank you for your interest and consideration. I look forward to hearing from you soon.
Sincerely,
[Handwritten Signature]
Susana C. Smith
Enclosure:  Resume
Christopher L. Smith
12345 Maple Lane
Janesville, MA 55555
May 17, 2017
Adam Masterson
ABC Software
987 Birch Street
Janesville, MA 55555
Dear Mr. Masterson:
In my search for a new challenge where I can leverage my experience in project leadership, database administration, and solution architecture, I was pleased to find ABC Software's opening for a senior software development manager. Eager to learn more about this exciting opportunity, I have enclosed my resume for your review.
As my career profile illustrates, I have specialized in enterprise-wide IT solutions/application development for the past six years. I am accustomed to the rigors of fast-paced, highly regulated environments requiring sharp attention to detail, consummate accuracy, and outstanding communication skills.
In me, ABC Software will gain a diligent, goal-oriented professional with the agility, dedication, and focus required to successfully fill the role of senior software development manager. Thank you for your consideration.
Sincerely,
[Handwritten signature]
Christopher L. Smith
Enclosure:  Resume
Email Cover Letter Examples
If you're submitting your cover letter in the body of an email, you don't need to include address information at the top or use the enclosure notation to indicate that your resume is attached to the message. However, you should still write your letter in a professional tone.
Dear Mr. Morris,
As an experienced leader in the field of marketing and project management, I'm eager to learn more about Jacobson & Jackson's open project manager position.
Throughout my 15-year professional career, I've found my greatest successes have been in the areas of developing strategic partnerships, implementing innovative marketing strategies, and increasing company revenues. My accomplishments in my most recent position include managing a $2MM+ department budget, designing and executing a $300MM+ cause marketing partnership with the largest media and entertainment conglomerate in the world, and developing ongoing advertising partnerships with seven key industry leaders.
I look forward to meeting with you to discuss your expectations for the project manager position and my ideas to energize the department. I will follow up with you shortly to answer any questions you may have.
Sincerely,
Marcus J. West
Dear Mr. Clark,
With over 10 years of account management experience, I believe that I possess the passion, experience, and acumen to be successful in your recently advertised senior account management position.
Throughout my career, I have been most proud of my ability to anticipate, identify, and meet customer needs. At my most recent employer, I developed strong relationships with C-levels and decision makers, as well with end users. Additionally, I supervised a staff of 16 professionals and maintained an $900,000 annual budget.
As someone who thrives in an entrepreneurial environment and is driven to continually exceed revenue targets, I wholeheartedly believe I am the perfect candidate for this opportunity with your company. Thank you for your consideration.
Sincerely,
William V. Jones
Getting Creative with Your Cover Letter
While silly jokes or informal slang are never appropriate in a cover letter, don't be afraid to show off your unique personality, especially if you're applying for a job in a creative industry, such as design or media. A creative cover letter that sets you apart from the pack is often just what you need to earn an interview for your dream job.