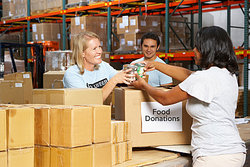 Whether you are interested in involving yourself in some humanitarian efforts or simply want to know more about the subject, becoming familiar with examples of humanitarian acts can be helpful in order to better understand how to assist fellow human beings.
Humanitarian acts happen at small, medium and large scales. For example, going overseas to help feed starving children is a humanitarian act, as is an individual giving a small monthly contribution to a local charity for the homeless or sponsoring a hungry child who lives in another country.
Humanitarian Acts Come in All Sizes
Large-Scale Efforts
Across the world, people come together in organized groups to help provide for the needy, homeless, hungry and others in need of assistance.
Local Efforts
Not everyone is able to be involved at the global level or dedicate as much time to humanitarian efforts. However, more locally-centered community involvement programs also allow people to positively impact other humans.
Here are some ideas and examples of how to be involved at a more local level.
Volunteering at a local soup kitchen.
Participating in a charity event with a group of friends or club such as the Relay for Life, Great American Bake Sale or Toys for Tots.
Raising funds for a family in the community who is in need.
Volunteering time to help struggling students to better learn their subject matter.
Volunteering time at any local charity.
Organizing a group of people to visit a retirement home or hospital and sing Christmas carols.
Starting a local shelter or rescue program for people in the community who are in need.
Renting a hall and throwing a Christmas party for homeless or struggling families in the community.
Visiting a local orphanage and spending time with the children.
Participating in a non violent protest against an injustice to human rights.
Offering to deliver food or other much need items to a shelter or food pantry.
Volunteering time at a day care in need.
All of these actions have the potential to greatly benefit the community and the people living there, even if the efforts are not part of a large, well-known humanitarian group or movement
Day-to-Day Actions
According to YourDictionary, the definition of a humanitarian is "a person who cares about people and who often participates in charity or does good work to show that care." Therefore, many, many acts fall into this category.
Caring about people and doing good works do not have to come with an organization. Individuals can contribute to the humanitarian effort themselves by:
Inviting a homeless person to dinner or to a holiday party
Donating money to a larger organization that helps people
Assisting a disabled person
Visiting an elderly person in the hospital
Reaching out to a person who is often left out at work or school
Making a weekly donation to the church food pantry
Offering to babysit for free for a struggling family
Complimenting a person or standing up for a person who others usually tease
Helping to take care of a sick or elderly family member or friend
Giving speeches about how others can get involved in humanitarian acts
All of these situations help out fellow humans.
Getting Involved
Maybe you've been inspired to participate in some humanitarian efforts. Of course, you can incorporate the small scale actions into your life on a daily basis. If you want to do more though, you should look into some of these resources:
Soup kitchens
Large scale organizations
Schools
Churches
Centers for struggling students
Hospitals
Retirement homes
Homeless shelters
Even if there currently aren't any opportunities, getting in touch with these organizations can put you into contact with others who do need assistance.