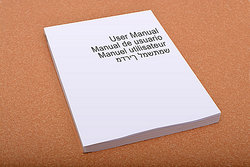 Writing user manuals can be a difficult task, and yet you want to ensure that the user manual you write actually helps someone and is user friendly. You do not want to leave the readers wondering about more than what they were trying to understand when they came to your user manual for help in the first place. Writing a good user manual requires good technical writing.
Understand and Know Your Audience
Understanding who your audience is can be half the battle when writing a user manual. By knowing your audience, you know what type and how much information to put in the manual about a particular topic.
If your audience is computer technicians then it is fine to go about explaining the manual in technological wording they will understand.
If your audience is beauticians who need to know answers about a new hairdryer on the market, then you use language they understand. Beauticians most likely will not want to know how to fix the hairdryer, but they will want to know how to use it.
In most cases, you want to know your audience for the simple reasoning of giving them what they want.
Know Your Objective
If you identify the objective for the manual you will be better able to ensure that you are putting all the right information in the manual. Make an outline so that you know when and where to place the information. This will give you a checkpoint so that you do not confuse or overload the reader with too many details.
Be Brief and Detailed
User manuals need to be brief and detailed. Being wordy just to add content and to make the manual longer is never recommended. If a question can be answered in a few sentences then it is best to leave it that way. Be brief by getting to the point and answering all important items that need to be addressed. State the details, but make every word count. Too much can cause information overload.
Include a Table of Contents
A table of contents is key when establishing what tips on writing user manuals you should take into consideration. Most user manuals use a table of contents to show the organization of the manual. The table of contents will help guide readers throughout the user manual. A table of contents will also help the reader locate answers to the questions they are looking for.
Be Conversational
Do not use all technical language unless it is required. People often feel jumbled and overloaded by words that make no since to them.
Being conversational when writing a user manual will help readers feel better about finding an answer they need.
Conversational answers seem to help people feel more at ease, helping them to understand better.
A good example of being conversational is adopting a concept and format of a frequently asked question user manual helps to identify with the reader. They have a question, you have an answer. It is conversational and helps get the answers to the most common questions out to the reader of the user manual.
Provide Examples
One of the best tips on writing user manuals is to include examples. In math books you see math examples and in grammar books you see grammar examples. Using examples when trying to explain technical information makes the explaining easier. Usually, if people see an example, the explanation will be clearer to them.