American vs. Foreign Designer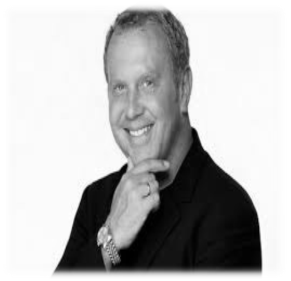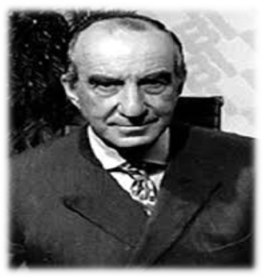 Michael Korsvs. Guccio Gucci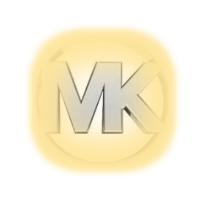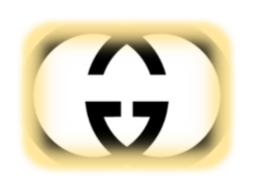 Showroom Headquarters: Showroom Headquarters:
11 W 42nd St. New York, NY 10018 Via Mecenate, 79, 20138 Milano, Italy
Written by: Irene Vastardis
Table of Contents:
Their Importance 4
Michael Kors Importance . 4
Gucci's Importance 4
Background of Designers .. 5
Michael Kors Early Life 5
Launching His Career 5
His Accomplishments ….6
Guccio Gucci's Early Life ..6
Launching His Career …. 7
The Aftermath …….. 8
Market Segments ……………….8
Michael Kors' Target Market .8
Gucci's Target Market ….8
Their Unique Designs……. 10
Michael Kors' Designs ..10
Gucci's Designs .11
Promoting Their Products ……..13
Michael Kors' Licensing Products ..13
Michael Kors' Advertising Methods …14
Gucci's Advertising Methods ..14
Similarities and Differences 15
Michael Kors' and Gucci's Similarities .. 15
Michael Kors' and Gucci's Differences .. 16
Appendix …17
References .19
Their Importance:
Michael Kors' Importance:
Michael Kors is one of the last American Designers that has not looked overseas for style inspiration. He often asks himself first, "Where is she wearing that?" before designing a garment (Michael Kors Strategic Marketing Plan, 2014). His main focus is on wearable pieces that is still considered luxury yet affordable. He maintains a huge public relation being on Project Runway for so many years and his ad campaigns are as slick as those of high-end brands such as Prada. I believe he is an important designer because of how unique he is. He makes women feel as though they can be beautiful, elegant, and sexy without spending thousands of dollars. He allows women to afford luxury items without the need of going all out. Most importantly, what he designs, can either be worn casually or professionally. I love that because it can be worn absolutely anywhere. A consumer who would buy Michael Kors products could never be too overdressed or underdressed going out somewhere, whether it be a date, a business meeting, or a night out with the girls. Michael Kors is also a huge philanthropist and truly cares about everyone. He believes in the right for every woman and man to feel high-class, important, beautiful, and sexy despite anyone's personal income.
Gucci's Importance:
Guccio Gucci is important because his brand lives on for almost a century and is more popular than ever. Gucci has always said "the difference between style and fashion is quality" (Global Branding Gucci, 2013). His compassion for the business allowed it to grow into a success. He started his company at the age of 40 after he was inspired with luggage bags working as an elevator attendant. He has created unique designs that have been featured in the New York's Museum of Modern Art. He is a legend in the eyes of so many amazing designers. His children were able to take over the business and keep it alive. His children had a huge responsibility to take over his father's business they were able to make it grow into the empire it is today. I can understand how his children felt and how difficult it was because me and my siblings look after my father's business. It could easily be destroyed in minutes if you don't have the proper guidance. That's what makes Gucci so special. It was never lost, because his children kept the business alive and more booming than ever. Gucci's slogan is "quality is remembered long after the price is forgotten" (Global Branding Gucci, 2013). Guccio Gucci's legacy will always be remembered and live on because he will never be forgotten as one of the greatest luxury Italian designers of all time.
Background of Designers:
Michael Kors Early life:
Michael Kors started off early in the fashion world. Being only a toddler in Long Island, New York, he started to model appearing on Lucky Charms cereal and toilet paper ads. He was born August 9, 1959, being the same day as my grandmother's birthday, he was also a baby boomer (Michael Kors, 2016). He was lucky to be born in an era filled with more privileges after the end of World War II. He was in love with shopping and collected all of the monthly Vogue magazines to keep up with the latest trends. He went to the Fashion Institute of Technology, but dropped out after only two semesters. After he dropped out, he started designing clothes for small Manhattan boutiques at the age of 19 (Michael Kors, 2016). Something in which I can relate to because it is exactly what I am doing now as a job, only, I'm still in school.
Launching His Career:
When his mother remarried businessman Bill Kors, she allowed Michael to design her wedding dress. In 1978, Kors worked for Lothar's, a French boutique, where he discovered his first idea to design his own fashion collection (Studenetske, n.d.). Michael Kors Woman's Collection was first launched in 1981 (Michael Kors, 2016). He convinced Anna Wintour, editor of New York magazine at the time, to take a look at his collection. He later picked up designers such as Barbara Walters and earned awards for his designs. Michael Kors business was not always successful though because his company ended up going bankrupt in 1990 (Know Your Fashion Designers: 10 Facts About Michael Kors, 2011). He then launched KORS Michael Kors for a lower price line for a younger audience. In 1997, he maintained a job as the creative director of Celine, a French fashion house, and remained in that position for six years (Know Your Fashion Designers: 10 Facts About Michael Kors, 2011). He continued being the creative director and expanding his brand, coming out with menswear, accessories and perfumes.
His Accomplishments:
He then became a judge on Project Runway in 2004 and retired from it in 2012. He won multiple awards including CFDA Women's Fashion Designer of the Year (1999), the CFDA Men's Fashion Designer of the Year (2003), the ACE Accessory Designer of the Year (2006), and the CFDA Lifetime Achievement Award (2010) (Studenetske, n.d.). In August of 2011, after gay marriage became legal in New York, he married his partner, Lance LaPere, at 57 years old, who is now the vice president of Michael Kors Women's Design.
Guccio Gucci's Early Life:
Guccio Gucci founded Gucci in 1921 in Florence, Italy, when he was 40 years old (Global Branding Gucci, 2013). He had four sons that had joined the firm. He was an Italian businessman and fashion designer as well as the founder of the fashion house of Gucci. His wife's name is Aida Calvelli and had six children. As a teenager, Guccio Gucci was a lift boy at the Savoy Hotel in London (Family Fued: The Guccis, 2015). He was inspired by the elegant upper class guests and inspires luggage companies such as HJ Cave &Sons, he returned to Florence making travel bags and accessories. In the 1920s, he started out selling leather bags to horsemen. He progressed to making luxury luggage. In 1921, he founded the House of Gucci in Florence as a small family-owned leather saddlery shop (Family Fued: The Guccis, 2015). The business picked up because of the immense profit and new luxuries coming out in the roaring 20s.
Launching His Career:
In 1938, Gucci opened his first shop on the Via Condotti in Rome, specializing in leather goods (History and Background of Gucci, n.d.). He luckily built a reputation for quality, hireling skilled craftsmen to work in his shop. This was the basis and the foundation of how the house of Gucci was founded. In the 1930s, Gucci became inspired by horseracing. This was a favorite pastime during the 30s (History and Background of Gucci, n.d.). Therefore, he started designing the hardware for his leather goods to resemble horse bits and stirrups. In 1932, he created the GUCCI "Loafer Shoe" with a gilded horse bit. They are only footwear on display in the New York's museum of modern art. In 1947, Gucci introduced "The Bamboo Bag," the first iconic bag. It was a saddle bag that featured bamboo handles and the ultimate classic. During the 1950s, the trademark red striped webbing was introduced (Gucci Guide Information, n.d.). It was taken from the original form place on a saddle girth. This became an emblem much like the leather moccasin with the leather bit (Gucci Guide Information, n.d.). This is famously known worldwide. Its unique creation made it possible for everyone to fall in love, including myself, with his new collection. His creation included products such as luggage, ties, shoes, and the famous handbags sporting the bamboo handle. In 1951, Gucci opened his store in Milan and two years, the company expanded overseas with the Manhattan store.
The Aftermath:
After Gucci's death in 1953, his son Aldo, along with his brothers, took over and helped promote the company internationally (Family Fued: The Guccis, 2015). They were opening open boutiques in the most favored fashion markets such as London, Paris, and New York. The 1960s brought increased fame to the Gucci empire and this was when Gucci was booming. Every Hollywood star was wardrobe in Gucci. Grace Kelly, Peter Sellers, and Audrey Hepburn made the name "Gucci" synonymous with "chic" (History and Background of Gucci, n.d.) Although there was success in the business, the family took some downfalls. Brother Maritssio Gucci, took the business over from his founding brother who in turn sold it to an Arab concern in the 1980's. In the early 90s, Gucci's image was tarnished when knockoffs appeared everywhere. In order to restore the company's luxury image, the company appointed American Designer Tom Ford as the artistic director in 1994 and kept the position until 2005. As of 2016, Alessandro Michele took over the reigns as creative director from Frida Giannini's position. He incorporates a lot of Greek mythology in his designs. Since then, it has become a popular name we all know and love today.
Market Segments:
Michael Kors's Target Market:
Michael Kors' target market is for women's leather goods and accessories while it showcases fewer items in clothing. They have obtained 521 stores globally (Michael Kors Strategic Marketing Plan, 2014). They first started off selling in high-end department stores such a as Bergdorf Goodman and Saks Fifth Avenue. However, 82% of their demographic are females and 36% of the demographic are aged between 26-35 (Michael Kors Strategic Marketing Plan, 2014). Their social status is for the middle class and a lifestyle that is already established. Those who have an adequately paying job and money to spend. Because it is more attainable prices, the result of their audience is younger because it is affordable, although older women shop his collection as well. Personally, I love the fact that it's affordable and own many different pieces from his bags, to wallets, shoes, and phone cases. The lifestyle is young, fashionable, and to be in-style.
Gucci's Target Market:
Gucci focuses on middle and high class income. Their market is more of a higher social status, whether it's a marries couple sharing joint income or a bachelor/bachelorette with a well-paying occupation. Their target age group is 26-40 years old although some do manage to purchase the Gucci brand in their early 20s (Gucci Guilty Advertising & Marketing Campaign, 2015). Their lifestyle is most typically for the wealthy, independent New York business woman/man. Personally owning some of Gucci's products such as their bags, shoes, belts, and even luggage, gives me a sense of importance. It gives me a sense of feeling like I am with those who are fashion forward and I have what they have in the introductory stages. Their target market's personality is for those who have a personality of excitement. Competence and sophistication and embrace it through this Italian brand. Those who want to reach the status quo, are fashion conscious, and are socialites (Gucci Guilty Advertising & Marketing Campaign, 2015). Their look goes for the woman to look bold, sexy, glamourous, trendy, classy and confident. Knowing I can afford and appreciate the brand as much as I do, gives me the feeling of being that so-called "fashionista" and having good taste for what I buy.
Their Unique Designs:
Michael Kors' Designs:
All of the Michael Kors handbags are made in China and manufactures by Sitoy
Group Holdings LTD (Michael Kors Strategic Marketing Plan, 2014). Michael Kors has discovered his niche in the industry with creating a combination of casual, street wear, athletics wear, and evening wear. He has made it so that it can appeal to almost everyone. Instead of other designers who focus solely on evening and business wear, Michael Kors took his collection in a different direction. He mostly uses leather as his best fabric to create these wonderful handbags in his Michael Kors Studio and Michael Michael Kors collections. Michael Kors is best known for his repeated logo on all of his accessories. He designs his bags with honeycomb MK logo print (See Figure 1-1). The known leather handbag with the pebbled leather satchel has been a staple in his designs (See Figure 1-2). Even Michele Obama popularized Michael Kors even more wearing his black shift dress in his Spring 2009 collected as her first portrait as first lady (See Figure 1-3). Even his other collection, Michael Michael Kors has a similar saffiano leather design as his original collection, Michael Kors (See Figure 1-4).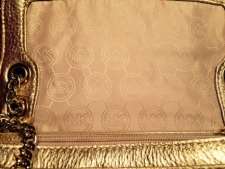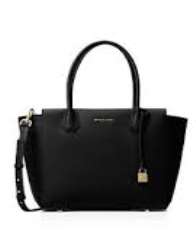 Figure 1-1 Figure 1-2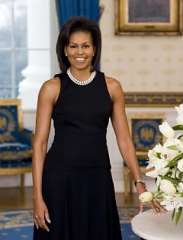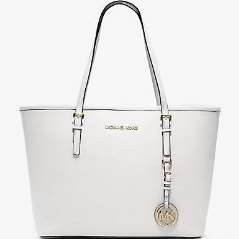 Figure 1-3 Figure 1-4
Gucci's Designs:
All the merchandise for Gucci is made in Italy. Gucci is best known of course for their leather goods. Now however, they have a line of perfumes, cosmetics, shoes, and eyeglasses, belts, luggage, jewelry, watches, and bags. They now have over 380 directly operated stores worldwide (Global Branding Gucci, 2013). Ready to wear "the flora" was a scarf which was called a Flouard created for Grace Kelly in 1966, was created for the Monaco princess (See Figure 2-1). The pattern was completely made out of silk and is still being used today in a variety of colors. Jackie Kennedy helped by being photographed with the Gucci shoulder strap which became known as the "Jackie O Bag" (Global Branding Gucci, 2013). Audrey Hepburn was the woman who helped brand Gucci to become successful (See Figure 2-2). They crafted durable woven canvas and a leather trim to make the luxurious symbol of the original GG pattern. The horse bit/icon design, which is one of my favorites, was seen on handbags, leather goods, and clothing, but was first introduced in 1953 on a pair of loafers (See Figure 2-3). I love the loafer look because I believe it is a staple for every man. The sophistication and class that shoe brings as they walk into work speaks volumes. The fashion conscious man can see that it is simply a must have in their closet. The Bamboo top handle was released in 1947 (See Figure 2-4). It was re-released in 2000, making it more modern and refined. The bag is now composed of 140 separate pieces made in Gucci Florentine workshops.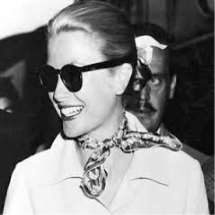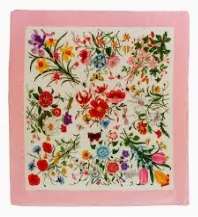 Figure 2-1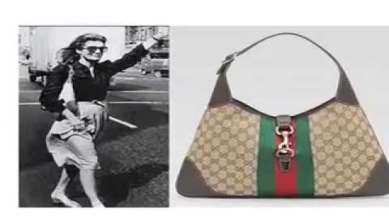 Figure 2-2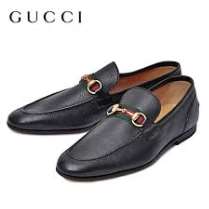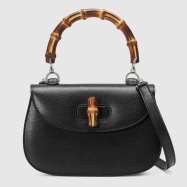 Figure 2-3 Figure 2-4
Promoting Their Products:
Michael Kors' Licensing Products:
Michael Kors has a lot of licensed products that he advertises through different companies. He has licensed watches and jewelry that has been licensed exclusively to Fossil. His watches came out in 2004 and his jewelry came out in 2010 (Michael Kors Strategic Marketing Plan, 2014). They are both sold in Michael Kors retail stores, wholesale customers, and select watch retailers. The watches sell from anywhere to $150 to $500. The jewelry includes bracelets, necklaces, rings, and earrings and sells between $45 and $375 (Michael Kors Strategic Marketing Plan, 2014). I personally love his jewelry, especially the watches. His watches are timeless and gives a sense of pure luxury as you put it on. The encrusted crystals and gold face and band truly gives it its endless look. He also has licensed eye wear that is exclusive to Marchon ever since January in 2004. The collection is focused on "status eye wear" (Michael Kors Strategic Marketing Plan, 2014). He sells them in Michael Kors retail stores, wholesale customers, select sunglass retailers, and prescription eye wear providers. The retail price is from anywhere in between $85 to $285. He works with Estee Lauder with his fragrance and beauty ever since May of 2003. In 2013, his tag line was "Sporty Sexy Glam," which is still continuing to be their standard of set style (Michael Kors Strategic Marketing Plan, 2014). They are sold in retail stores, wholesale customers, and select fragrance retailers. The price range is typically around $20 to $115. His handbags and small leather goods range from $500 to $6,000, while his footwear is anywhere from $500 to $1,300. His women's apparel, which is his smallest category, ranges from $400 to $4,000 (Michael Kors Strategic Marketing Plan, 2014).
Michael Kors Advertising Methods:
The way Kors advertises is through his ads always about boarding a private jet or hanging around on a yacht in the French Riviera. His ads are usually in magazines such as Vogue, Harper's Bazaar, and Vanity Fair(Michael Kors Strategic Marketing Plan, 2014). They promote in these magazines for the fashion-conscious women out there to create their own personal style. He advertises in these magazines because of the similar interest medium to attract the magazine and the customer target market. The luxury at an attainable price is the strength of the brand. He also sells his products at department stores such as Bloomingdales, Nordstrom, Macy's, Lord & Taylor's, Neiman Marcus, Saks Fifth Avenue, and many others. North America is the largest Michael Kors' geographical market but is also expanding in Europe and Asia (Segmenting and Targeting Market, 1970). For those who may not be able to reach the store, a consumer may always purchase them on his website.
Gucci's Advertising Methods:
The attitude towards Gucci's advertisements is the sense of defiance of a young and social demographic. Women see it as a sense of elegance and beauty and men see it as a "cool brand." Gucci advertises in magazines such as GQ, Vogue, Men's Health, Cosmopolitan, Esquire, Glamour, and many others (Gucci Guilty Advertising & Marketing Campaign, 2015). They advertise big on Facebook and Twitter as well as other social media sites. They even have their own geo-filters on Snapchat that can be activated while stepping into any Gucci boutique. Their retailer engineers are Amazon, Selfridges, and Harrods. They have public transportation billboard advertisements and digital advertisements too. There is also TV commercial advertising for the brand. I typically always see commercials based around their perfumes, especially the most popular Gucci Guilty. They always having an aesthetically pleasing actor and actress using sensory marketing to attract their customers. Consumers can buy Gucci products across the globe including the United States, Europe, Asia, Australia, Hong Kong, Japan, Singapore, and Switzerland (Gucci Guilty Advertising & Marketing Campaign, 2015). Gucci products are sold at any Gucci retail stores and other department stores such as Macy's, Nordstrom, Neiman Marcus, Saks Fifth Avenue, Bloomingdales, and many others. If consumers are unable to reach the store, they are always able to order off the Gucci website and get the merchandise delivered to their home with more convenience.
Similarities and Differences:
Michael Kors' and Gucci's Similarities:
Some similarities these two designers have is their niche in luxury leather handbags. They both started off selling leather goods and expanded their realm into making apparel, cosmetics, eyewear, shows, and fragrances. Their logo is both the first and last initial of their names. They both create an elegant and chic look to their brand and are intended for the business working man/woman. Neither of them had a college degree but both started on their own because of their true love for luxury goods. Their way of marketing is through retail stores, department stores, and online. They advertise through social media and magazines as well.
Michael Kors' and Gucci's Differences:
One main difference about Gucci and Michael Kors is the price range of their products. Gucci sells handbags anywhere from $395 to $29,000, while Michael Kors sells them anywhere from $98 to $3,000. All of Gucci's products are made in Italy while Michael Kors is typically made in China or Vietnam. Michael Kors gets his inspiration from American designs while Gucci was inspired through his daily pastime in Italy. Gucci then created more designs through watching the trends of fashion around the world. Guccio Gucci was inspired through fashion by being an elevator assistant. He started designing by the age of 40 with his niche being leather because he loved watching horseracing. Michael Kors knew he wanted to be a designer from a young age. He started modeling by the age of 9 and worked his way to design his own women's collection by the age of 21. Michael Kors is a younger demographic and aims more towards a comfortable lifestyle Gucci's demographic is a little bit more sophisticated and has more of a lavished lifestyle. Either way, I am in love with both of these brands. They are the majority of my wardrobe and my accessories that are very well known designers. I love how they can be so different and similar at the same time. Michael Kors is known for bringing in a younger demographic, while also bringing and older demographic as well, but for Gucci to also lure in those who are younger with his timeless designs shows just how brilliant they truly are.
Appendix
Alas, M. and Piggott, M. (1966). Flora Pattern [Picture]. Retrieved by http://www.dailymail.co.uk/femail/article-2267265/Charlotte-Casiraghi-poses-new-Gucci-campaign-wearing-iconic-Flora-scarf-grandmother-Grace-Kelly-Sixties.html
Daly, D. (2010). Jackie – O [Picture]. Retrieved by https://www.youtube.com/watch?v=6v4YNGDlRNM.
Elizabeth, L. (2015). The "Honeycomb" Print [Picture]. Retrieved by https://workinglook.com/2015/09/23/how-to-find-the-real-markdowns-at-michael-kors-outlets/
Hill, M. (n.d.) Gucci Logo [Picture]. Retrieved by https://clipartfest.com/download/8d406f591e87e0e8b1209d2a12c990e5e8ba246f.html
Gucci. (2016). Bamboo Classic Leather Top Handle [Picture]. Retrieved by https://www.gucci.com/int/en/pr/women/handbags/womens-top-handles/bamboo-classic-leather-top-handle-p-409398ARU0N1000
Gucci. (2016). Flora's Scarf [Picture]. Retreived by https://www.gucci.com/us/en/pr/women/womens-accessories/womens-silks-scarves/womens-scarves/flora-silk-printed-scarf-p-0227963G0019000
Gucci. (2016). Leather Horsebit Loafers [Picture]. Retrieved by https://www.gucci.com/us/en/pr/women/womens-shoes/womens-moccasins-loafers/leather-horsebit-loafers-p-460118C9D001000
Kors, M. (2017). Jet Set Travel Saffiano Leather Small Tote [Picture]. Retrieved by https://www.michaelkors.com/product/jet-set-travel-saffiano-leather-small-tote/_/R-US_30H1GTVT1L?ecid=MKC_Google_US&gclid=Cj0KEQjwk-jGBRCbxoPLld_bp-IBEiQAgJaftSIh-BKxs9noCY5-55lUAxyheRXGOyvVi9Y1tiDVVCoaArHL8P8HAQ
Kors, M. (2017). Mercer Large Leather Satchel [Picture]. Retrieved by https://www.michaelkors.com/product/mercer-large-leather-satchel/_/R-US_30H6GM9S3L?ecid=MKC_Google_US&gclid=Cj0KEQjwk-jGBRCbxoPLld_bp-IBEiQAgJaftdtKvzSB8yl8y5KQRn60S96H_Qei7qhgtxy0fLik6mMaAuSU8P8HAQ
Kors, M. (2009). Michele Obama in MK Dress [Picture]. Retrieved by https://www.emaze.com/@AIRRCOWW/MICHAEL-KORS
N. A. (2015) Michael Kors [Picture]. Retrieved by http://icecreamconvos.com/rumor-control-michael-kors-doesnt-like-black-people/
N. A. (2015) Guccio Gucci [Picture]. Retrieved by http://www.todayifoundout.com/index.php/2015/06/family-feud-the-guccis/
Naziera, S. (n.d.) MK Logo In Gold [Picture]. Retrieved by https://www.pinterest.com/pin/447123069226714946/
References
Family Fued: The Guccis. (2015, June 15). Retrieved March 28, 2017, from Today I Found Out: http://www.todayifoundout.com/index.php/2015/06/family-feud-the-guccis/
Global Branding Gucci. (2013, August 01). Retrieved March 27, 2017, from LinkedIn Slideshare: http://www.slideshare.net/sujasrait/global-branding-gucci
Gucci Guide Information. (n.d.). Retrieved March 27, 2017, from Gucci Guide Information: https://www.yoogiscloset.com/gucci/guide
Gucci Guilty Advertising & Marketing Campaign. (2015, April 29). Retrieved March 27, 2017, from LinkedIn Slideshare: https://www.slideshare.net/TomPheby/gucci-guilty-advertising-marketing-campaign
History and Background of Gucci. (n.d.). Retrieved March 27, 2016, from Discount Perfume: http://www.fragrancex.com/products/_bid_gucci-am-cid_perfume-am-lid_g__brand_history.html
Know Your Fashion Designers: 10 Facts About Michael Kors. (2011, April 21). Retrieved March 27, 2017, from College Fashion: http://www.collegefashion.net/news/know-your-fashion-designers-10-facts-about-michael-kors/
Marketing Plan of Gucci. (2016, March 18). Retrieved March 27, 2017, from Marketing Dawn: http://marketingdawn.com/marketing-plan-of-gucci/
Michael Kors. (2016, February 04). Retrieved March 27, 2017, from Biography.com: http://www.biography.com/people/michael-kors-594228#early-life
Michael Kors Strategic Marketing Plan. (2014, March 06). Retrieved March 27, 2017, from LinkedIn Slideshare: https://www.slideshare.net/jplopan/michael-kors-strategic-marketing-plan
Segmenting and Targeting Market. (1970, January 01). Retrieved March 27, 2017, from Michael Kors: http://desireeimichaelkors.blogspot.com/2013/05/ch-8-segmenting-and-targeting-markets.html
Studenetske. (n.d.). Retrieved March 27, 2016, from http://www.studentske.sk/anglictina/History%20of%20Guccio%20Gucci.htm